CARLO COLOMBO PIANO E VOCE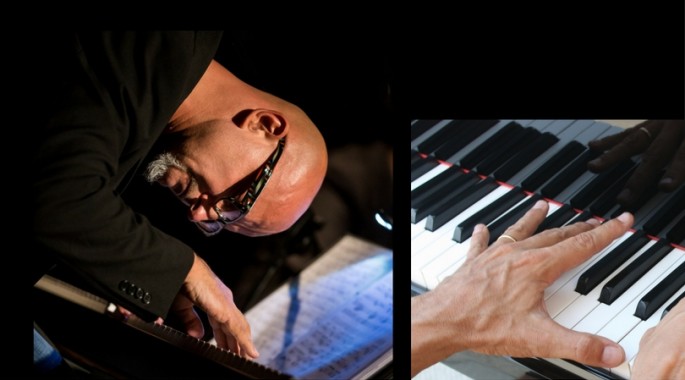 La figura del cantante-entreneuse che si esibisce con il solo ausilio del
pianoforte acustico e di un microfono è una cosa oggi piuttosto rara e
preziosa.
Con l'introduzione delle tastiere elettroniche dagli anni 80′ in poi questo
tipo di musicista è praticamente scomparso.
Carlo Colombo al contrario non ha mai usato basi elettroniche per uno
spettacolo live ma ha sempre accettato la sfida di esibirsi solamente al
pianoforte ed alla voce, nonostante le difficoltà che questo comporta.
Negli anni ha sviluppato una tecnica pianistica jazz associata alla voce
cantautorale esplorando i grandi classici del repertorio internazionale e
della musica d'autore italiana: All of me, Fly me to the Moon, Autumn
leaves, Volare, Guarda che luna, Via con me, Tu vuo' fa l'americano e
altre, oltre ovviamente alle proprie composizioni originali
Recentemente questo genere di intrattenimento/concerto è tornato alla
ribalta vista la propria peculiarità per eventi culturali ed intrattenimento
per ascoltatori esigenti che richiedono atmosfere acustiche e senza tempo.
Carlo Colombo – pianoforte e voce
The singer-entreneuse figure performing just with the acoustic piano and a microphone is a rare and precious thing today.With the introduction of electronic keyboards from the 80′s this type of musician has practically disappeared.Carlo Colombo, has never used electronic platforms for a live show, but has always accepted the challenge of playing solo on piano and voice, despite the difficulties that this entails.Over the years he has developed a jazz piano technique associated with the songwriting voice exploring the great classics of the international repertoire and the italian music: All of me, Fly me to the Moon, Autumn leaves, Volare, Guarda che luna, Tu vuò fa l'americano and others, as well as his original compositions. Recently, this kind of entertainment / concert has come back, given its peculiarity for cultural and events for demanding listeners who require acoustic and timeless atmospheres.
Carlo Colombo – piano and voice